Step 1: Examine the Outside of the Book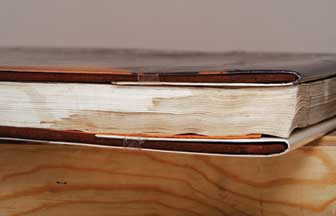 Look for signs that the book has gotten damp – either recently or in the past. Page edges could be wavy, or there could be stains on the book's exterior that look like something spilled or seeped onto the book. If the book is still damp, further treatment is needed even if you are sure that no mold growth is present. Go to the section on Treatment for more specific information.
Look for marks that appear different from the usual dirt and shelf wear that books encounter. These can be indicators of mold. Most mold growths start as a result of exposure to moisture. Most books get wet on the outer edges first; thus, most mold in books is found growing from the outer edges in. If the book has been exposed to moisture, then at one time it was a potential site for mold spores to grow.