When discarding a moldy book, be aware that some people find many useful things through dumpster diving, or going through other peoples' or business' trash. Just as your library staff and patrons should not be unduly exposed to mold in the collection, neither should people who retrieve things out of the trash.
For this reason, when discarding a moldy book:
1. Put the book into a sturdy plastic bag
2. Seal the bag shut with tape
3. Tape a label to the bag indicating that a moldy book is inside.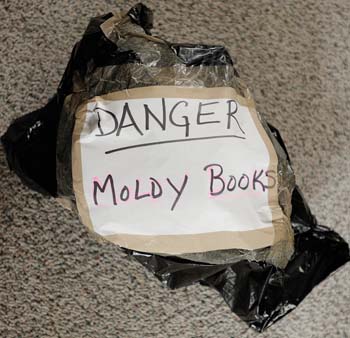 This way, someone else who may find this book in your garbage will at least know what they have, instead of unwittingly keeping a book that could damage their health or the health of others close to them. Note that all rags used with moldy books should be discarded in the same way.