What Books and Adobe Have in Common
In many regions of the world, people build structures with adobe, a mix of clay and fibrous materials such as grass. Some books are made of paper that has also been coated with clay. This coating is known for the vibrant reproduction of four-color printing, for example in photography books, and for its satiny finish and feel. In a book with clay-coated paper, the wood fibers that make up the paper pulp function similarly to the grasses or other fibrous materials in adobe bricks. If the book gets wet, you must treat the book quickly. Otherwise, the paper's clay coating and fibrous wood pulp will fuse together into an adobe brick. Great for building – not for reading.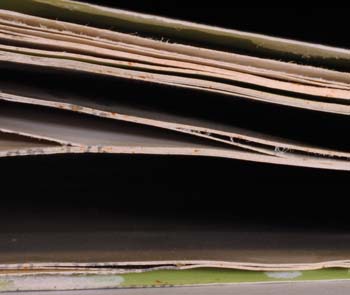 Notice how the paper fibers have torn where someone has tried to separate some of the pages, and how the pages clump together where the clay coating on the paper has gotten wet.